Photo reviews
I have known this company for many years. Good guys-they know the places very well and taught me the correct tactics of spearfishing. This time I came across a grouper - a very tasty ceviche and grill were prepared from it in the restaurant!
I've hunted a lot of places before. I have accumulated a lot of experience in spearfishing. I really liked the trip to the sunken ship - it was very difficult hunting there, a strong current and a depth of about 23 meters, it was necessary to dive confidently, but there was a lot of fish. In general, I liked everything - it was very fun!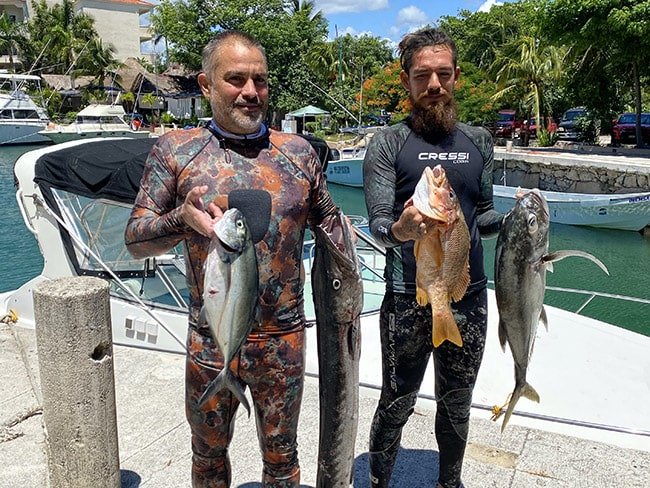 I came to Cancun from Italy. Mexico is currently open. There is really cool spearfishing here. I saw a lot of barracudas, of various sizes. I managed to shoot one. For the first time in my life, I tried fresh triggerfish ceviche - it really was the best in my life! Proper organization of the trip - no complaints - everything is fine!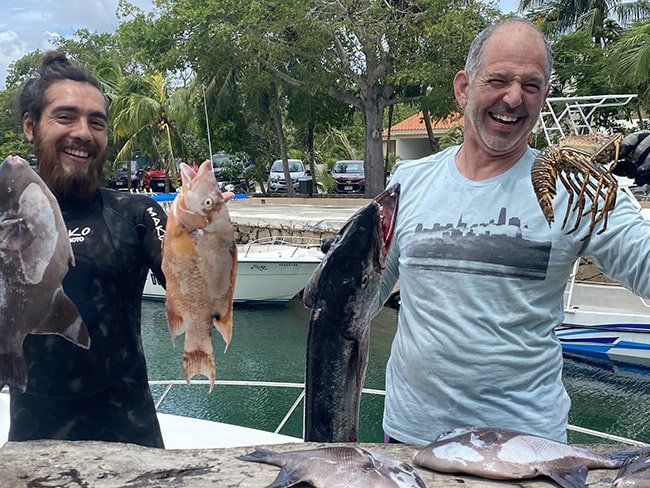 We came from Slovenia. Previously, the experience of spearfishing was only in the Mediterranean Sea. Caribbean spearfishing is much more interesting and the underwater world is very rich. This is a new and wonderful experience for our family!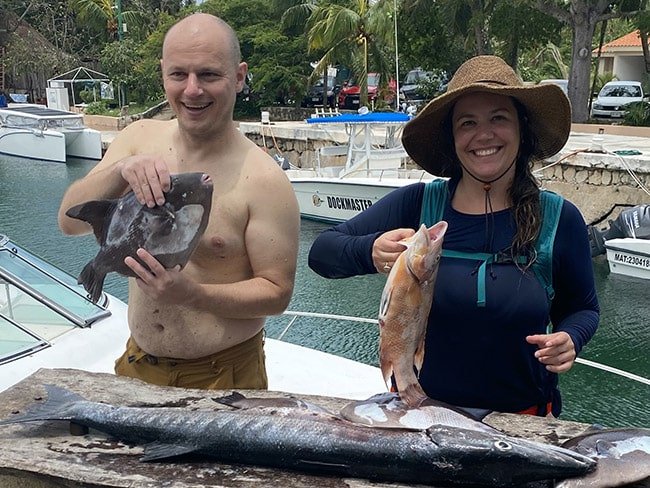 Great guys - the trip was very well organized. The instructor showed me a very good place and I was able to shoot a huge barracuda at 14 kilograms - this is my biggest trophy!
Hello everyone I live in Acapulco on the Pacific Ocean. The Caribbean Sea is very different. There is a very beautiful underwater life and an abundance of fish. I love trophy spearfishing - I never catch small fish. Thank you - everything was well organized!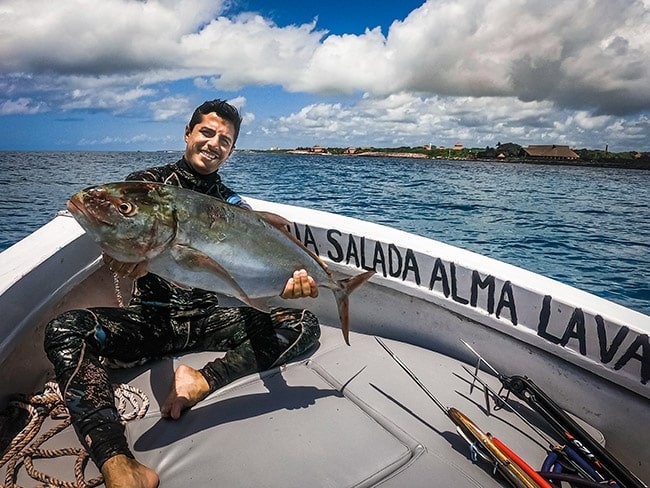 Hi! I went spearfishing with my brother. Cool places here are the fish. On our first trip, it was a little hard to dive. But we shot 4 fish. One was a large barracuda. The restaurant has prepared a delicious barracuda grill for us!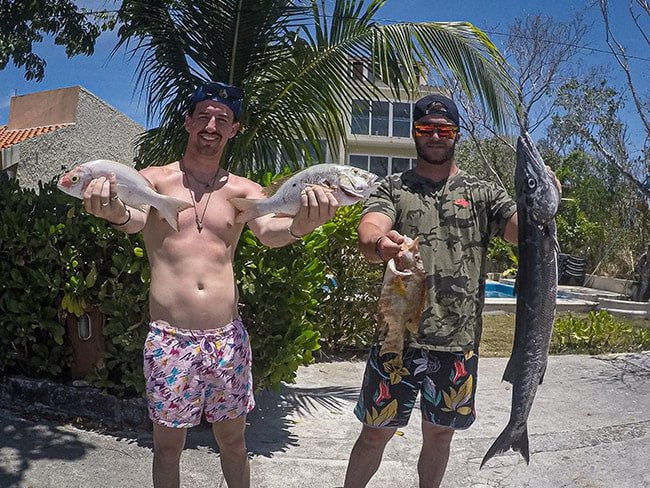 We persuaded our father to go spearfishing. He had not had such an experience before - so it was very difficult for him. But we all really liked it - we will definitely go again!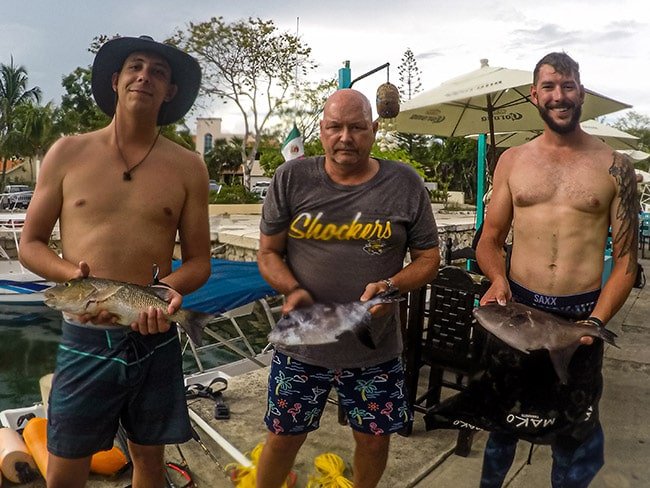 We decided to diversify our honeymoon. I wanted new and bright extreme sensations and we went spearfishing. There were a lot of lobsters ) P.S. everything was organized very cool and correctly. Very nice friendly guys!
George, Daniel
15-08-2021
This is our first time in the Caribbean. Previously, they hunted only in Florida. It's cool here - we really liked it - a lot of lobsters. Fish were practically not shot - only lobsters were caught)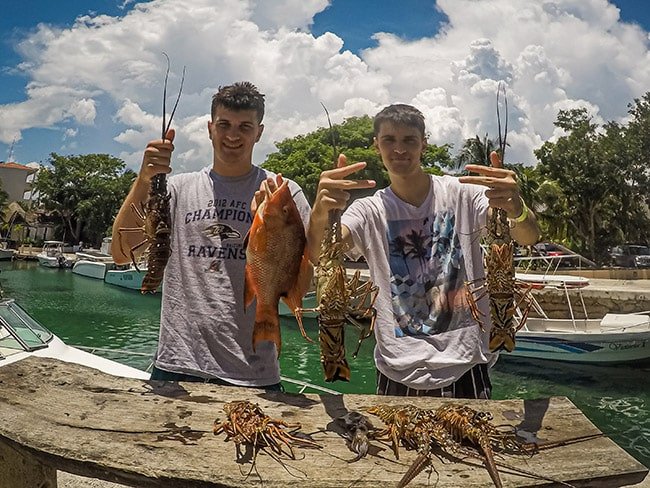 We literally had a family spearfishing tour. While the grandmother was busy with the children, their parents managed to dive and catch two barracudas! We liked everything very much - we recommend it to everyone!!! P.S. Even if you are a complete beginner - do not be afraid - you should definitely try it! This is a new cool experience, we have only positive emotions left after this tour!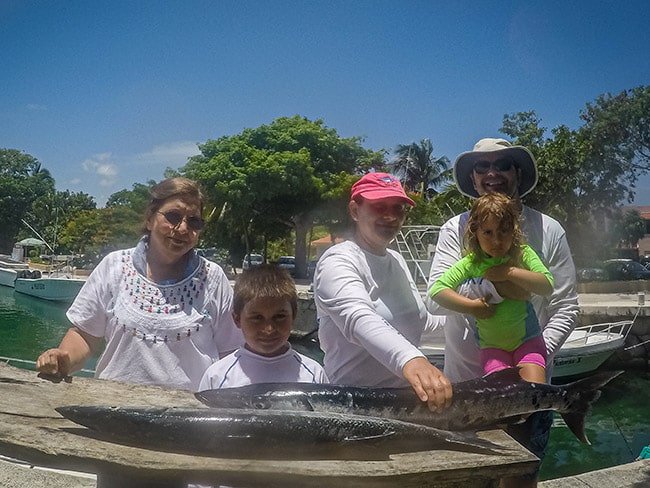 All reviews